3 scientists win the Nobel Prize in Physics 2023. They developed light pulses to explore electrons
The Nobel Prize Awarding Body announced today, Tuesday, the awarding of the 2023 Nobel Prize in Physics to the French scientist Pierre Agostini .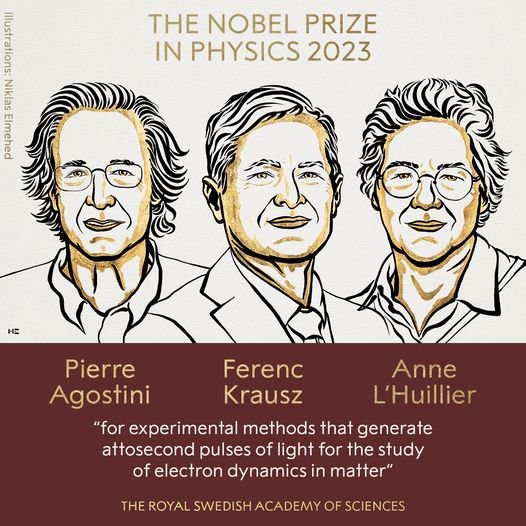 The Royal Swedish Academy of Sciences, which awards the Nobel Prize, announced that the three scientists have provided "new tools for humanity to explore the world of electrons inside atoms, which may be useful in medical diagnosis."
The jury said that the three researchers were awarded the prize this year in recognition of "their experimental methods that generate light pulses at totoseconds (billionths of a billionth of a second) to study electron dynamics in matter."
A post shared by the Nobel Prize page on Facebook explained the achievement made by the three scientists, saying that they "conducted experiments that reveal a way to produce pulses of light short enough to take pictures of the processes occurring inside atoms and molecules."
He added: "The movements of electrons in atoms and molecules are very fast, as scientists measured them in attoseconds (billionths of a billionth of a second), and attosecond pulses allow measuring the time it takes to pull an electron away from the atom. "This depends on how closely the electron is attached to the nucleus of the atom."
In their experiments, scientists were able to know how electrons oscillate from one side to another, or from one place to another in molecules and materials. Previously, it was possible to know the location of these electrons only approximately.
What's Your Reaction?