The Israeli occupation prevents Palestinians from performing Friday prayers in Al-Aqsa Mosque
The Israeli occupation authorities closed the blessed Al-Aqsa Mosque and prevented entry to it to perform Friday prayers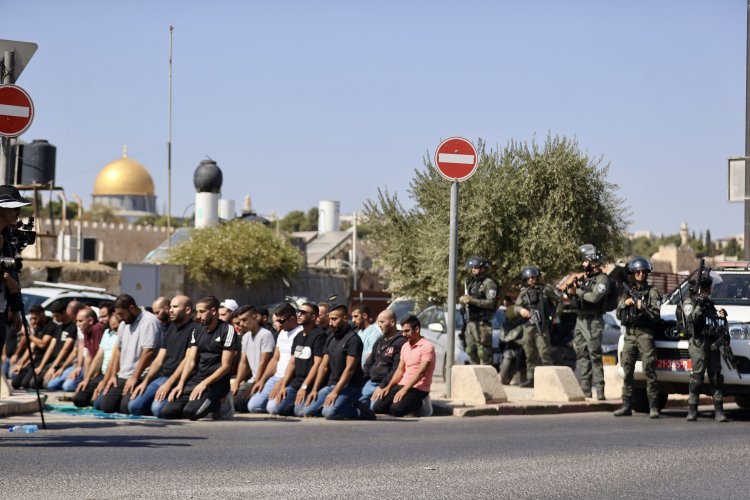 The Islamic Endowments Department in occupied Jerusalem said earlier that the occupation forces prevented worshipers under the age of 70 from entering the Blessed Al-Aqsa Mosque on the second Friday, while the occupation soldiers assaulted the Palestinians and the worshipers at the Majlis Gate, one of the doors of the Blessed Al-Aqsa Mosque.
The Hebron Governorate, south of the occupied West Bank, witnessed several massive public marches, following Friday prayers, at the invitation of the national and political forces, and the Fatah movement's regions in the governorate, in support and support of the Gaza Strip, and denouncing the Israeli aggression on the Strip. During the march, the participants raised Palestinian flags and banners denouncing the crimes of the occupation. Against humanity, and pictures of martyrs.
In Bethlehem in the occupied West Bank, hundreds of Palestinians participated in Manger Square in a stand in support of the Gaza Strip and denouncing the ongoing Israeli aggression against the Strip. Participants raised slogans denouncing the aggression against the Strip.
For his part, Palestinian presidential spokesman, Nabil Abu Rudeina, said that peace will only pass through Palestine, Jerusalem, and the leadership of the Palestine Liberation Organization, adding that the issue of Palestine is an issue of land and state and not an issue of humanitarian relief.
Abu Rudeina pointed out that it is not possible to accept the forcible displacement of a single Palestinian citizen from his land. The Palestinian presidential spokesman continued, saying that the national project cannot be broken and the occupation has declared war on the Palestinian people in all their places of presence.
What's Your Reaction?