New York Times: There is no evidence that the Palestinian resistance is responsible for the Baptist Hospital explosion
Contrary to the Western media's bias towards the Israeli narrative regarding recent events, the New York Times analyzed of the Baptist Hospital explosion in Gaza.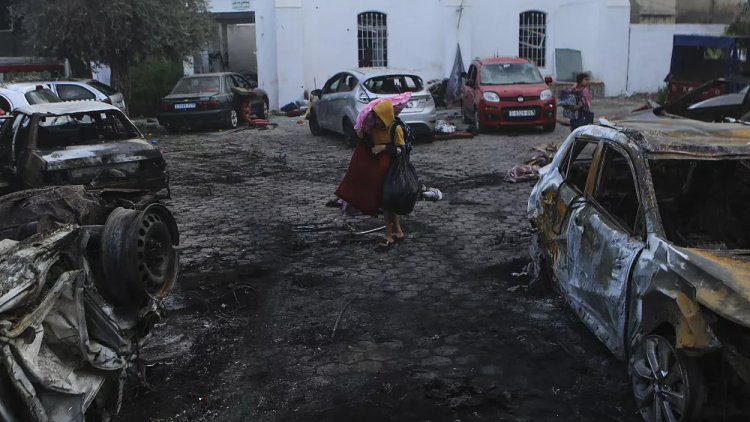 In a bold investigative analysis by seven editors and investigative staff at The New York Times entitled "A Closer Look at Some of the Key Evidence of the Baptist Hospital Explosion in Gaza," they refuted some of the evidence that the Israeli authorities relied on to confirm their version of the tragic incident that occurred in the vicinity of the Baptist Hospital inGaza
Analysis has proven that one of the most famous videos broadcast by the Israeli army, of a missile that it claimed was the one that led to the explosion, is inaccurate and fragmentary, and that the missile that appeared in this video was from Al Jazeera, which Israel relied on.
It was launched from Israel and exploded two miles before the border with Gaza
There is no clear evidence that the cause of the explosion was a failed missile launched by the resistance in Gaza that accidentally fell on the hospital 
The newspaper said that the claim of Israeli and American intelligence agencies that the failure of a Palestinian rocket launch was the cause remains plausible, but the New York Times analysis casts doubt on one of the most widespread pieces of evidence that Israeli officials have used to prove their case, and further complicates the straightforward story they presented.
American, Israeli, and Canadian intelligence claimed that the cause of the explosion at the National Baptist Hospital on October 17, which killed more than 500 people, was due to a failed missile launched by the resistance in Gaza.
The Palestinian factions have strongly denied these allegations and that Israel is responsible for this tragedy, especially since Israel had warned that the hospital would be bombed and demanded its evacuation a few hours before the explosion
What's Your Reaction?