The Red Chair
she sat silently for a little time. I hoped at the time that I could enter deep into her brain so that I could know what she was thinking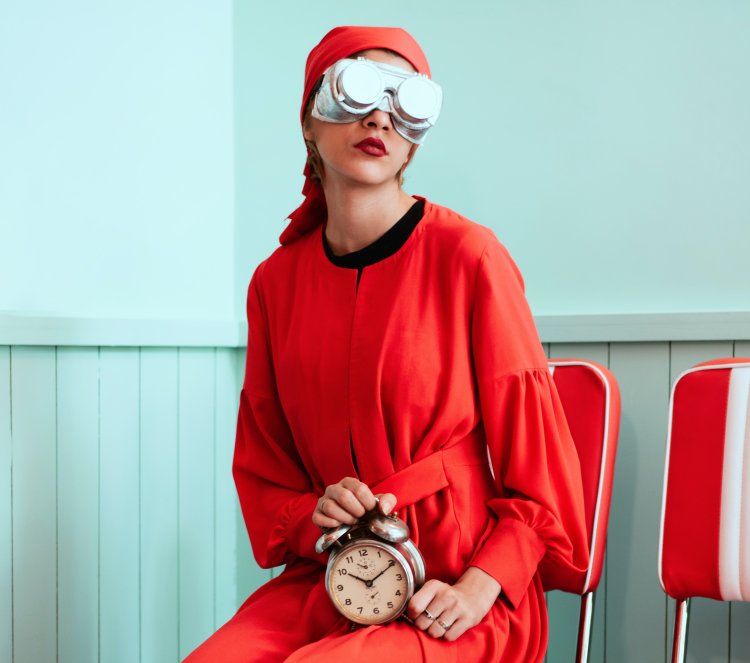 Reading the language of her body this time was the most difficult,
the language of the body was very strange this time, she was acting unusually, she was moving her eyes quickly, then suddenly stopped her eyes as if looking at something far away, she was wearing that night, A hot red  dress, revealing all her wonderful legs, and asked me at to take some pictures for her , when she was in this case, she was laughing loudly, and moved her hair up and down all the time, and smoked many cigarettes, She also asked for a glass of red wine, and lowered the light, and became swaying, as if dancing contemporary expressionist dance, and minutes later sat on a red chair in the middle of the room, and as if she was in a torture room inside an international intelligence. she sat silently for a little time. I hoped at the time that I could enter deep into her brain so that I could know what she was thinking, what she felt, In this strange case
I can not deny that I was so worried about her in that night
I felt that something evil was controlling on her , and it is not the impact of shock or the effect of drugs or alcohol ,I was looking at her in surprise, and at the same time I was looking at her with erotic looks, I thought a lot I completely naked her body, and I have love with her on the ground that is filled with dirt,
I will enjoy with her when she is In this strange case, it is certain that the orgasm will also be strange. I have never seen her in such a case before. The atmosphere at that time was filled with calm and cold . The unknown waited hiding behind her mind. She was silent a little. and again then she came back again to sway her body. As if she showing me all the charms of her hot body, or as if she sees someone inside the room but I can`t see him, but she always looked at the corner a lot and she saw someone standing there, and was speaking in a low voice, I could not hear, and did not I could understand something of what she was saying
I do not think all this was because of the influence of alcohol, But she always drank wine and never before had it like what happened to her that night, i felt she was hiding a great secret, she could not tell me, or do not want to, but maybe now or later I'll know this secret, and I'll know everything,
But the effect of the situation it was on made me make sure that this was not the last time, and this situation will be repeated again, and next time I will be ready, so I can enjoy it a lot, and I can lie it and it is under the influence this strange situation, I am sure that this intercourse will also have a strange effect, perhaps the duration will be too long and not just 20 seconds of pleasure.
What's Your Reaction?